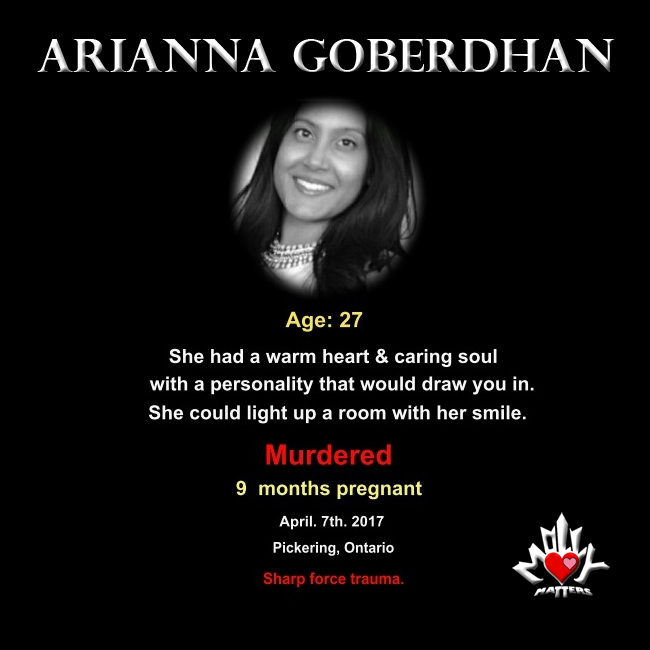 Arianna Goberdhan, 27, of Ajax, was nine months pregnant when she was killed. The accused killer is her husband, Tyler Baig.
The little girl that was killed with her was named Asaara.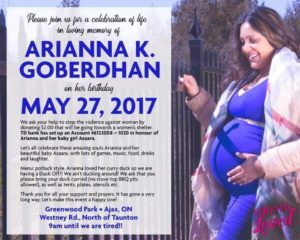 Although CBC reported, ""Police have yet to say whether Baig could be charged in the death of the unborn child or whether his charges could be upgraded," Canadian law does not allow for any additional charges for the unborn victim, Asaara.
It is difficult to speculate why CBC and Global National news sources reported the story in this way. It is no secret that in Canada that there are zero additional charges when a pregnant woman is murdered for the life of the child she chose to carry. Even if that child was due to be born any day as was the case for Arianna's daughter Asaara.
Although the initial charges were upgraded to from "Second" to "First" degree murder, the most typical outcome in Canadian law in these circumstances is that the killer will be allowed to plea down to "Second degree" and will receive no more than 15 years in prison.
Soon after the sentence is handed down and reported as "life" in the media, the Parole Board of Canada (PBC) will send a letter to those who registered as victims of the crime informing them that the murderer will be eligible for several types of parole three years sooner than what was indicated by the judge at sentencing. This will not be reported by the news. The recipients of this letter will be warned against sharing the information publicly.
The true sentencing outcome for the crime for all practical purposes will be 12 years behind bars.
For slaughtering a 27 year old woman who was 9 months pregnant with her first child, the murderer will likely get what amounts to little more than 12 years of actual jail time.
Rest in peace Arianna and Asaara.
CBC:
http://www.cbc.ca/news/canada/toronto/woman-dead-domestic-disturbance-pickering-1.4062279 
http://www.cbc.ca/news/canada/toronto/arianna-goberdhan-nicholas-tyler-baig-killing-1.4065157 
http://www.cbc.ca/news/canada/toronto/car-found-pickering-murder-1.4063389
Other links:
http://news.nationalpost.com/news/canada/toronto-killing-reignites-emotional-debate-can-an-unborn-fetus-be-a-murder-victim
http://www.lifenews.com/2017/04/10/woman-nine-months-pregnant-killed-but-canada-says-her-unborn-baby-isnt-a-human-being/
http://www.durhamregion.com/news-story/7237691-killing-of-pregnant-ajax-woman-arianna-goberdhan-sparks-discussion-of-legal-protection-for-unborn-ch/
Both comments and pings are currently closed.